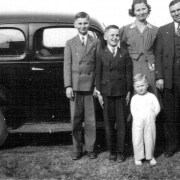 More than just a Czech flag logo on a license plate or letterhead, we at Sykora Family Ford are proud of our Czech heritage and continue the tradition of hard, honest work that our ancestors brought to this region of Texas from the Czech Republic. Our dealership proudly displays the Czech flag in our logos to honor those that came before us and gave us the opportunities we currently enjoy.
The Sykora family has a long history of working the land, be it here in black lands of Central Texas or in the beautiful countryside of the Beskydy Mountains in Moravia. Four generations of Sykoras farmed lands near the village of Trojanovice in the current day Czech Republic for over 100 years. During that time our ancestors mastered the skills of making many of today's popular Czech heritage food items such as sausages, various cheeses, sauerkraut, and those famous kolaches. Our ancestors also instilled in each following generation the value of honesty, a hard work ethic and a deep religious conviction.
However, all of those values were not enough to survive and raise a family in the extremely poor economic conditions caused by very bad harvests in the mid 1840's and the war with Prussia in 1866 that led to many deaths from cholera in the region. After the civil war in America (1861-65) concluded, emigration to America became a popular way for many Czechs to seek a better life. In 1871 Great, Great Grandpa Josef (born on February 3, 1835) and Great, Great Granny Anna Michalsky (born on July, 22 1839) decided to leave their Moravian homeland for the promise of a better life in America.
On April 16, 1871 Josef and Anna Sykora with their six children boarded the SS Frankfurt in Bremen, Germany and after almost of month at sea, they arrived in New Orleans, America on May 12, 1871. From there they traveled to Central Texas and settled in the West area. The Sykoras found this new country to their liking and added seven more children to the six that came from the old country. Josef (Joe) and Anna Sykora lived a full life raising their thirteen children and are buried in the St. Mary's cemetery in West. Anna passed away on August 7, 1899 followed by Joe who died on February 4, 1907.